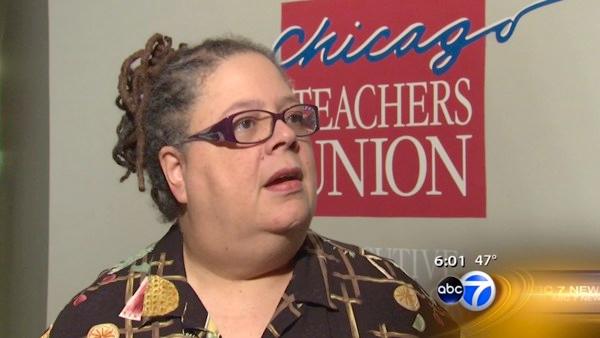 Is there no end to the brazen, shameless behavior on the part of our national public employee unions? Apparently not. The Chicago Public Schools (worst performance in the nation, right in there with Washington DC and Atlanta public school systems) public union goon Karen Lewis is now demanding a 30% raise in public union teacher salaries over two years. A September strike is now being planned. (I say let them go on strike, and fire the whole stinking crappy lot of them, and hire non-union teachers to take their place. We would be way better off without these worthless pieces of garbage teaching our kids).
Chicago schools are unarguably the worst performing schools in the nation, and arguably the crappiest performing education organization in the entire WORLD, and we all see this brazen, obnoxious pig of a 'public servant' union thug boss DEMANDING a 30% raise for teachers over 2 years.
Is there no end to the drunken power of our public unions?
These bloated, incompetent teachers unions, because they suck so badly at their jobs, are virtually insuring that Chicago kids will never ever be qualified to enter the work force. These kids can barely (if at all) read their diplomas. The typical valedictorian at a Chicago Public School, while receiving straight A's their entire public school career, can't even score a passing grade on the SAT's, and no decent college or university will touch these 'valedictorians' with a ten foot pole.
And don't get me started on the fire fighters on the public payroll. A typical fire house is overstaffed and over paid by 300%, and they seem to be immune from any and all downturns in the economy. When a fire breaks out somewhere, a zillion firefighters show up, destroy the house with their axes, fire picks, and hoses and woeful disregard the integrity of the property that had the fire and subsequently boast and crow about how they 'saved' life and property. We could do with an across the country cut of 300% of fire department assets, and get by with volunteer fire fighters. These guys are just as bad (almost) as our public union teachers. Not quite but just about.
When I went to public elementary school, my 200 student elementary school staff had a principal, an assistant principal, a few secretaries (they call them administrators now), 10 teachers for 10 classes of 20 kids each, and a couple of janitors. That's it. Sixteen people on the public payroll to educate 200 kids.
Now my daughter's elementary school has multiple times this number of teachers: a principal, a vice principal, an assistant principal, several counselors, an entire nursing staff, an administrative staff of around 10, a cafeteria staff of another 10, scores of teachers, a music teacher, an art teacher, a physical education teacher, a Spanish teacher and a janitorial staff of ten, and another 10 people on the payroll that I don't even know about. Maybe 60 or 70 elementary school staff, or more. To do the same job that 16 people did in 1965, with the exception that we kids used to brown bag our lunches.
You cannot argue that fire fighters and school teachers unions are simply feather bedding their roles all on the pubic dime, but are not adding to the quality of our community's education or protection.
They are just craven, greedy slobs who are parasites of the public trough. A pox on them all.