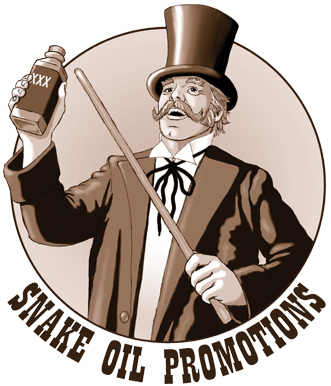 What is the value provided by a financial advisor? Do they really know how to manage your money better than you can, or are they just slimy, shaky, fly-by-night snake oil salesmen?
Indeed, what kind of bang does the consumer of financial advice get for their buck? Some question the value consumers gain in doing business with financial professionals, while others ponder the nature of the commissions and fees withheld by these professionals for their services provided and how these commissions and fees are connected to the underlying motivation financial advisors have in offering the sales of various securities and insurance products to trusting consumers. Exactly what does the consumer gain in the long run from using the services of a financial advisor?
Truth be known, people who use these charlatans are worse off in the long run.
Overall, a financial advisor functions within an industry that is regulated by FINRA, and to a lesser extent the federal government via the SEC, and by the individual states regarding insurance products and services. Anyone offering advice, sales of securities or financial or insurance related products needs to possess a valid license from each authority to legally transact business within the industry. The purpose of these licensure requirements rises from the many and varied past abuses of the public trust by charlatans and rapscallions posing as 'advisors,' offering nebulous products that on the surface sounded good as described by these slick hucksters, but in reality provided little if any actual value in exchange for the hapless consumer's hard earned cash. Have things changed all that much from those days to what we see within the financial services industry now, given that the industry is reigned in to some extent by extensive regulation?
Not really.
Regarding the credibility of each advisor, what exactly do they know about the future and how this will affect your financial position? The answer:
absolutely nothing
. Nobody has a crystal ball, and the fact that they predict likely performance based on what happened in the past with each instrument they hawk is always disclosed by their catch all (and mandatory) phrase: 'past performance is not a guarantee of future results.' In other words, they are flat out guessing about how your portfolio will look going forward given the general history of the products and services they sell you, when in reality they have no more information about what will happen in the future to the value of the products they shill than anybody else.
What exactly do financial advisors know that you don't know when it comes to how a security will perform in the future?
Again, nothing
. One advisor (a Certified Financial Planner, or CFP) emailed me the following: '…
you may want to increase your international exposure. Inflation is coming and the value of our dollar will fall, which is good for international. The government printed up so much money to stimulate our economy that inflation is bound to happen. Also, I know you don't want bonds, but you may be able to get stock like returns from International bonds in the future. Do this in your IRA or annuity though. International bonds spin off phantom income which accountants don't like.
' Sounds like this guy knows his economic theory, doesn't it? Is this CFP a credentialed economist?
No. Although there are a few FA's that have formal educations in finance and economics, most FA's are not financial experts or economists, and have no real education in economic theory. This guy likely just read some financial journal article in which the esteemed author opines that rampant and out of control inflation is inevitable. Accordingly, this FA positions this opinion as the bogeyman to be defeated by his international bond proposal. In truth, this 'Certified Financial Planner' has absolutely no clue whether our dollar will rise or fall or whether rampant inflation will occur in the future, because no one knows for sure. This 'advice' from the aforementioned CFP was given to me in June of 2009. Had I taken his advice and bet the farm on international bonds nearly three years ago, I would be walking around with a barrell and suspenders, I'd be dead broke, just like Jon Corzine of MF Global who bought into this international bond snake oil sale, and bet his farm (and everybody else's at MF Global) on it. International bonds, particularly European based bonds are almost worthless now, and they are so risky their yield is through the roof to entice some stupid schmuck to buy them. And nobody is touching them right now with a 10 foot pole.
This particular CFP based his sales pitch back then on a singular economic opinion. Unfortunately, the field of economics is not called the 'dismal science' for nothing: much of the science of economics is dedicated to economic theory which is far more subjective than objective. Because the real world application of these economic theories by politicians currently in power rarely produce exact results on any nation's actual economic activity, the old saying certainly rings true: 'if you lay all of the economists in the world end to end, they would never reach a conclusion.' Or this one: 'economists have accurately predicted nine of the last five recessions.' And certainly one of my favorite economist jokes goes something like this:
Q: What's the difference between an economist and a befuddled old man with
Alzheimer's Disease? A: The economist is the one with the calculator.
"Financial Planners:" pros or snake oil salesmen? Part II is forthcoming....stay tuned.