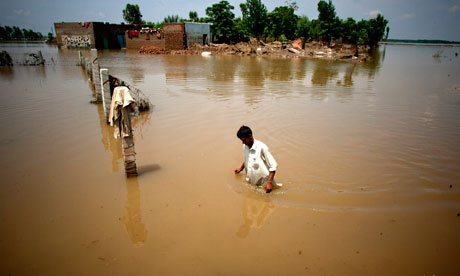 Perhaps as many (or more) than twenty million (that's 20,000,000) Pakistanis are now homeless and destitute owing to the annual flooding that occurs at this time every year. This year, the flooding is greater than normal, and estimates place about 20% of the country under water.
So far, no significant global effort is underway to help these suffering multitudes, other than a pitiful (yet typcial) effort on the part of the United Nations. Yes, some mention of their plight has made the news, but the focus on this naturual disaster is nowhere near other recent disasters such as has befallen the earthquake victims of Haiti, or the sunami victims of Thailand a few years ago.
.
Former U.S. presidents (Bill Clinton and George H.W. Bush) have teamed up to spearhead relief efforts on behalf of both of those stricken populations. Why the indifference to the suffering multitudes in Pakistan? Are these unfortunate souls in Pakistan less deserving of a global response than others whom have suffered catastrophies meted out by Mother Nature recently?
.
Arguably, the affects of this flooding have devastated the lives of many times the population of other disasters that have made the news of late. Maybe the population of Pakistan is less sympathetic than others of similar fates. Shortly after the 9/11 attacks on the U.S. by Islamic fanatics, we all watched scenes of Pakistanis and Palestinians dancing in the streets in celebration of the nearly 3,000 dead Americans. Recall recent polls of Pakistanis recording their overwhelming hatred of the West and the U.S. in particular lately. Pakistan is the home of countless terrorists and their support groups. Pakistan is reportedly the current refuge of Osama bin Laden, the world's most dispicable, hated and notorious terrorist.
.
Pakistan is one of the most unliked and unsympathetic countries in the world today. They are the recipients of countless millions/billions in foreign aid (one of their primary sources of GDP), and yet they hate everyone and harbor terrorists who plot death and destruction for Western and Indian targets even as I write this. Talk about biting the hand that feeds you. This failed nation and society is a blight on civilization.
.
Pakistan should not count on Bill Clinton and George H.W. Bush putting together an aid package for them. This country has always been a disaster, is currently a disaster, and always will be a disaster.
.
There is no hope for a prosperous Pakistan in the future. There never will be.
.
May God have mercy on Pakistan. But, alas, I suspect that Pakistan is God forsaken.